The Kingsport Public Library announces new Library App!
October 30, 2012
Library app..

DOWNLOAD KINGSPORT PUBLIC LIBRARY'S APP!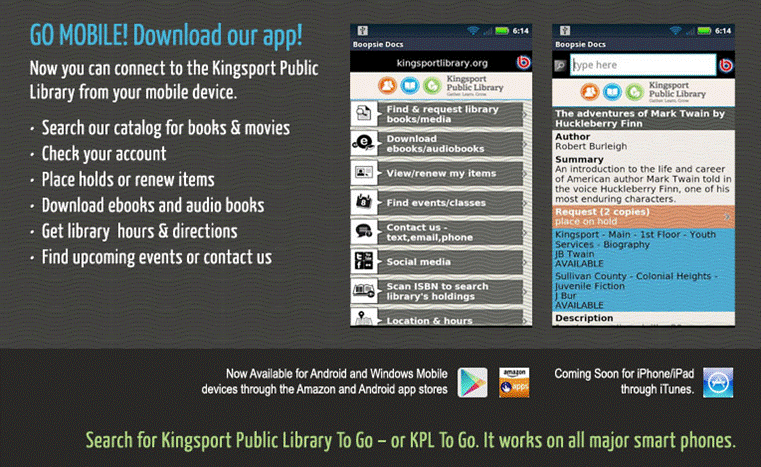 Available now through iTunes, Amazon and Android app stores.  Free.




FOLLOW THE LIBRARY ON OUR NEW TWITTER ACCOUNT!
Twitter







USE THE ACCESSMYLIBRARY APP
to find libraries within a 10 mile radius of your location and obtain free, unlimited mobile access to their subscription GALE magazaines, encyclopedias and newsapaper articles.  For Android, iPhone, iPod Touch and iPad.






LEARN FOREIGN LANGUAGES AS YOU TRAVEL
Works with iPhone, iPod Touch and iPad.  It offers the same functionlity as Mango's self-study language learning software.  Once installed, the program doesn't require Internet access.  Patrons just download what they need when they need it.  Use your KPL library card for access.


400 Broad Street, Kingsport,TN  37660
Contact Us | Phone: 423-224-2539|

kptref

[at]

wrlibrary [dot] org
//
Kingsport Contact Info
Location:
1st Floor, City Hall

Postal:
225 West Center St.
Kingsport, TN 37660

E-mail:
Phone:
(423) 229-9400

Fax:
(423) 229-9350